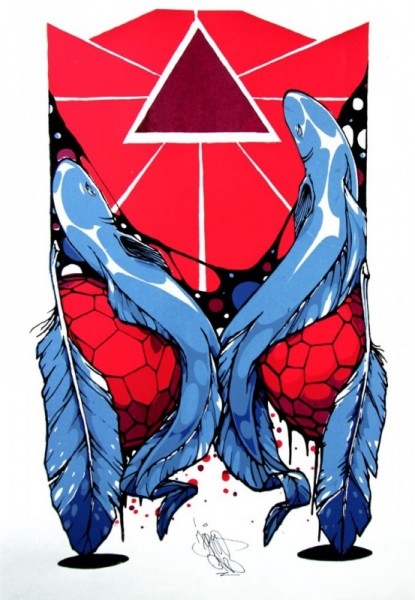 JEROO: EELS OF GLORY 5 color screen print Size: A2 (42 x 59,4 cm) Run: 70 Year: 2014...
more
Product information "JEROO: EELS OF GLORY"
JEROO: EELS OF GLORY
5 color screen print
Size: A2 (42 x 59,4 cm)
Run: 70
Year: 2014
Stuttgart-based artist Jeroo began painting graffiti at the age of twelve. Working without a mentor, Jeroo learned everything he could about spray-painting by himself. This allowed him to develop a fresh, distinct style, which is mainly characterized by combining Graffiti with influences like Art Nouveau. After fifteen years of writing graffiti, Jeroo started creating characters on canvas. Using spray cans, he began to incorporate concrete shapes into his work, developing a special technique of taping to create exact angles and shapes. The result is a mesmerizing hybrid vision where fantastic creatures emerge from a world of letters.
Find out more about Jeroo on: