No results were found for the filter!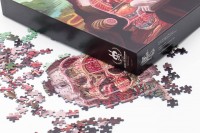 DISSECTION OF MONA LISA JIGSAW PUZZLE
Order now. Back on stock November 27 2020. Limited amout available before Christmas. Max 3 items per customer. 1000 pieces dimensions: 63,33 x 47,5 cm ( 24,9 x 18,7 inches) original artwork by NYCHOS: "Dissection Of Mona Lisa", acrylics...